4-H Youth Development

What is 4-H?
4-H is a community of young people across America engaged in learning leadership, citizenship, and life skills. Caring adults that support our programs are essential for youth to achieve their potential based on the guidance, respect, skills, knowledge and wisdom adults can share. 4-H is a nationwide program. Each of the four H's of the clover represent ways youth can grow and develop.
Head, critical thinking, problem solving;
Heart, self-discipline, integrity, communication;
Hands, serving others; and
Health, choosing healthy lifestyles.
In 4-H, youth have fun with a purpose!
RENO COUNTY 4-H ROUNDUP FUNDRAISER

The 4-H Roundup Fundraiser runs from January 16 - February 8, 2020. There will be prizes awarded to the kids for different levels of donations they bring in. In addition, the top club will win a party at Hutch Putt.
Proceeds from the fundraiser will go to Reno County 4-H Council to help pay for camp scholarships, leadership events, civic engagement activites and many other activities and events.
PLEASE SUPPORT RENO COUNTY 4-H!!!
click HERE to make a donation.
BELOW IS THE QR CODE IF YOU WOULD LIKE TO USE YOUR SMARTPHONE TO DONATE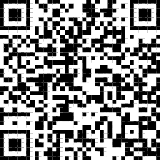 OR YOU CAN CLICK On THE DONATE BUTTON BELOW. ANY SIZE DONATION IS APPRECIATED!!!!