Kansas Master Naturalist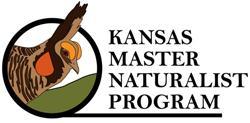 What is a Master Naturalist?
A Kansas Master Naturalist (KMN) is a trained volunteer who provides expertise and services for natural resource projects that benefit the community.
KMNs are trained and certified in Kansas Natural Resource concepts. They, in turn, give voluntary service for a variety of projects that utilize their training.

Since 2011, Master Naturalists have given over 1,200 hours, impacted more than 15,500 people & provided $22,050 in volunteer service to the community. MN's multiply the natural resource work that can be accomplished. MN projects include youth & adult education, bee removal, riverbank restoration, national/state/ city park restoration, native plant establishment, and nature trail installation and maintenance.
2018 Master Naturalist Training Class
Advanced Training Opportunities
Volunteer Opportunities