Walk Kansas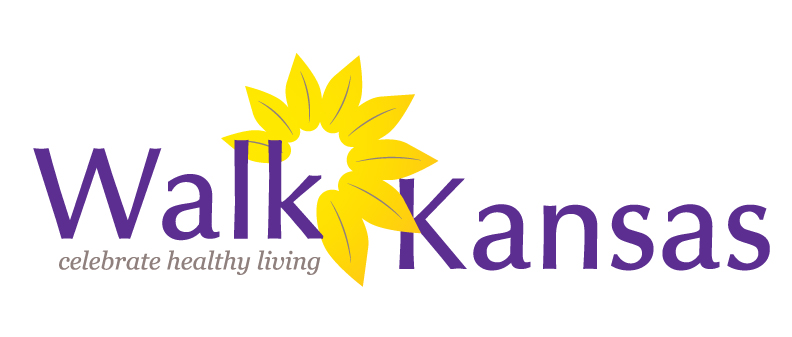 Here we go! Get your walking shoes ready - it's time for Walk Kansas 2016. This year, we challenge you to "walk tall" and "walk strong" as you journey across the state.
2016 Walk Kansas Reno County
Walk Kansas begins April 3 and continues through May 28, 2016.
Walk Kansas is a team-based program that will help you and others lead a healthier life. Join this program and
be more active with friends and family,
make better nutrition choices,
and walk away your stress.
2016 Team and Individual registration is now done online at www.walkkansasonline.org
Walk Kansas t-shirts and polos are available for teams to order if they wish but are not required and are at an additional cost. See registration process for more information on available apparel and pricing.
**Please note, state budgetary concerns have caused the need for a small team fee to be required for Walk Kansas again this year.
Walking Sites In Reno County
Nickerson Elementary School
Location: 400 N. Nickerson, Nickerson, KS 67561
There's a new walking trail at Nickerson Elementary School, the ABLE Trail. Find out more about the ABLE trail by visiting the Sunflower Foundation's trail finder page, and clicking on Reno County: Sunflower Foundation
Hutchinson Sports Arena
Location: 700 East 11th, Hutchinson, KS 67501
Contact Information: 665-3530
Open Hours To The Public: 8am – 6pm Mon–Sat.
Walkers and Runners use the Hutchinson Sports Arena during both cold and warm weather. The temperature in this building is regulated and they hold regular hours in which the public may utilize the facility. The Sports Arena is also the home of the HCC Blue Dragons basketball team as well as many other community events.
Salthawk Activity Center
Salthawk Activity Center: 13th and Severance
Phone : For more information on open times (620) 665-4400
The Salthawk Activity Center is located on the campus of Hutchinson High School. It is the home of all Hutch High Salthawk basketball games. The center has an indoor walking track on the upper level of the building. The building is open to the public on Sunday afternoons and during high school practices.
Carey Park
Carey Park is the largest park in Hutchinson, KS. The park contains an 18-Hole public golf course, an aquatic water park, fishing ponds, numerous sites to camp for the day and hold a family a picnic, and the newest addition to Carey Park is the Sam Martinez walking trail. On warm days throughout the year community members gather in the park to relax with a book, stroll along the sidewalks, or play a short game of nine holes at the golf course. The Sam Martinez Trail runs along Cow Creek and connects the three miles between Rice Park and Carey Park. The trail has recently been extended and loops around the entire length of Carey Park. Community members of all ages use this multi-purpose attraction to run, bike, walk, and rollerblade. Carey Park and the Sam Martinez Trail are open from 5 a.m. - 12 p.m. daily. Park access is free, however, to utilize the golf course and water park there is a fee.
The Golf Course at Carey Park is used by all community golfers. The course is an 18-Hole course with challenging fairways. For a tee time or other questions phone: (620)663-8396
Salt City Splash at Carey Park opened in the summer of 2000 and is an amazing attraction to our community. It offers water exercise options for all ages. The facility has four separate pools ranging from a zero depth pool with fun toys and slides to a 50 meter pool fully equipped with diving boards. For operational hours and entry fees please visit www.hutchrec.com or phone 620-662-7705
South Hutchinson Family Fun Trail
You can Walk, Ride or Roll on the newly finished Family Fun Trail in South Hutchinson! The trail was completed late summer 2007, and many of you may have watched it being constructed. The crew did a great job, the concrete is very nicely finished and provides a smooth place to roll (in your wheelchair, rollerblade, or skateboard), bike and walk. The trail was named through a contest for elementary school students.
The trail is made up of three different but joining loops, each loop is over 1 mile. There are benches provided along each loop in case you want to take a break or just tie your shoe. There are plans to soon have educational signs posted at the trail heads in two locations which will provide information about target heart rate, and exercise stretches, as well as signs measuring each .10 of a mile along each trail. What a great new free resource to our county.
The trail is well lighted. It follows Hwy 96 and streets which are traveled frequently by the South Hutchinson police making it a safe place to exercise 24/7. Make plans to include using the new trail during your 2008 Walk Kansas experience.
Hutchinson Hospital
The Hutchinson Hospital has an underground tunnel that connects Horizon's Mental Health Center to the Hutchinson Hospital. Walkers in the community will use the indoor tunnel to get their thirty minutes of walking for cardiovascular health for the day. Walking in the tunnel at the Hutchinson Hospital is free of charge to all community members.
Location: 1701 E. 23rd, Hutchinson, KS 67501
Hours: Open 24 hours a day - Tunnel available any time.
Contact: (620) 665-2000
Avenue A Park
Avenue A Park is located at the intersection of Avenue A and Main Street. The park is a new addition to the historical antique district on South Main. Avenue A offers a unique water park that that is open during the hot summer months. Children of all ages love to play in the water. Avenue A also has a walking path that winds along cow creek, walkers are seen throughout the year using the short trail. Lastly, during summer months the park is home to lunch time entertainment for local business workers to walk to the park and enjoy their lunch and enjoy the beautiful Kansas weather while listening to a local entertainment act.
Avenue A Park - Avenue A and Main St.
Open during warm warm weather at no charge
Dillon Nature Center
Three miles of developed trails. 1/3 mile is wheelchair accessible.
Trails & Grounds: Weekdays 8am-sunset, Weekends/Holidays 9am-sunset
Visitors Center: Weekdays (April-Sept) 8am-7pm, Weedays (Oct-March) 8am-5pm
Saturday 10am-5pm, Sunday 1pm-5pm
Directions:
In Hutchinson take K-61 north to 30th Avenue. Dillon Nature Center is located less than a block east on 30th Avenue.
Woodard Interpretive Trail Loop (.75 mile) (blue arrows) Surface varies from crushed rock to grass to dirt. Includes some steps and slopes. An interpretive booklet is available for this trail. Features found along trail: ponds, marsh, small stream, small prairie, thickets, woods, and gardens.
Outer Loop Recreation Trail Loop (.86 mile) (red arrows) Surface is mostly dirt and grass. Not always outside of the Woodard Trail but mostly follows the perimeter of the nature center. Good jogging trail. Features found along trail: ponds, small prairie, thickets, woods, and gardens.
Upper Pond Hard-surface Trail (.29 mile) (just follow the concrete walkways) Surface is all concrete and at least five feet in width. Circles pond, goes through beautiful garden areas, and connects to visitor center. Even though it may be officially rated as accessible, some slopes may be challenging for some users.
Cheney State Park
Cheney State Park - (620) 542-3664
12 miles south of Hutchinson, The park has two nature trails.
Sand Hills State Park
Sand Hills State Park - (620) 542-3664
East of K-61 on 56th & 69th Streets, North of Hutchinson
For a quiet, tranquil visit with nature, this 1,123-acre natural area provides a panorama of sand dunes, prairie, woodlands and wetlands and offers hiking, nature and horse trails.
Hutchinson Zoo
Hutchinson Zoo
(620) 694-2693
Carey Park
600 East Blanchard
Open Daily except Thanksgiving, Christmas and New Years Day
Hours vary daily
The Hutchinson Zoo features wild habitat exhibits with naturalistic settings. River otter, pronghorn, bison, coyote, ringtail, bobcat, reptiles, porcupine, golden eagles, and native birds are but a few of the animals. The Animals & Man Exhibit offers opportunities to pet domestic animals from around the world.
Specially designed tunnels at the Prairie Dog Complex offer children a "prairie dog view" of the zoo and a giant spider web offers a climbing adventure.
Live animal education presentations are offered at the Discovery Center for groups of 10 or more by prior arrangement.
Construction began in 2001 on a new log cabin-styled Friends of the Zoo visitor center, which opened during the summer 2003. The center houses a gift shop, conference room and wildlife library.
Admission to the zoo is free
Hutchinson Mall
1500 E 11th Ave Ste 3000
Hutchinson, KS 67501 Phone: (620) 665-5232
Monday – Saturday doors open at 6am (Stores open at 10am)
Sunday - Doors open at 8am (Stores open at noon)
Rice Park
Swarens & Dover Drive, Hutchinson
Harsha Memorial Park
Woodlawn & 13th Streets, Hutchinson